The 15 Best and Worst Words to Use on Resumes According to Recruiters
:
'via Blog this'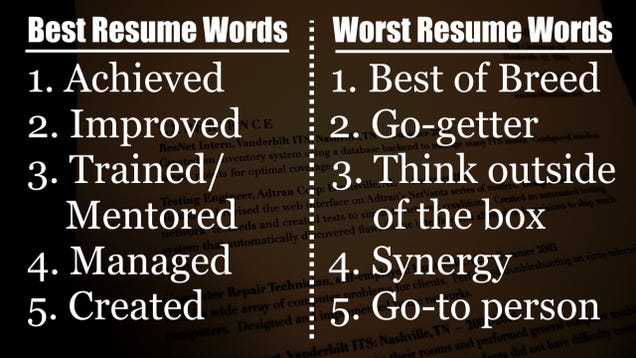 EXPAND
Given how little time recruiters spend on a resume, you should use any edge available to stand out from the crowd. A recent survey of over 2,000 human resource professionals highlights the best and worst words to use in your CV.
Granted, such lists are nothing new, as
we have written about them
on
more than one occasion
. But that doesn't mean a new list is any less valid. CareerBuilder got Harris Poll to survey 2,201 hiring managers across industries, and found that 68 percent of them spend less than two minutes on a resume.
The survey also found that hiring managers prefer strong action words with clear definitions, as opposed to subjective terms and cliches. Hit the link below for more details on the survey and findings, or quickly check your resume for these key phrases: